Elf Marc VDS Racing Team ready to kick off 2022 Moto2 challenge
Sam Lowes and Tony Arbolino will race in the famous Marc VDS livery in 2022 in a season in which renowned lubricant brand Elf will once again accompany the Belgian squad in the fight for the Moto2 World Championship.
After an intense pre-season, the Elf Marc VDS Racing Team is motivated and ready to face its thirteenth consecutive season in the intermediate category World Championship.
Experienced British rider Sam Lowes and young Italian Tony Arbolino are the two riders Marc van der Straten has placed his trust in to help the squad compete for a fourth Moto2 title.
After a successful first season with Elf as title sponsor in 2021, the French lubricant brand will continue an alliance that first began in the inaugural Moto2 World Championship in 2010.
Elf and the Marc VDS Racing Team are both united in their quest for excellence both on and off the track and the continuation of their relationship for 2022 further strengthens the historic partnership between the pair.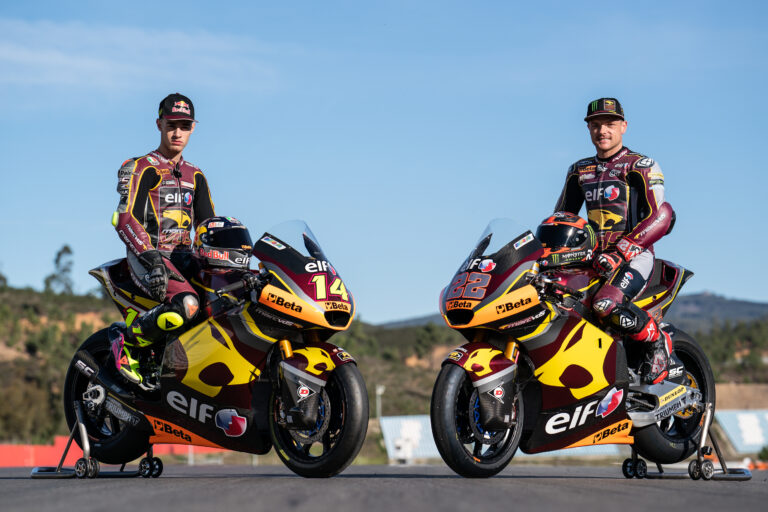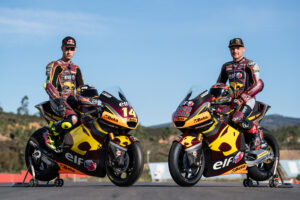 /// SAM LOWES
This season marks the third for Sam Lowes with the Elf Marc VDS Racing Team and with an impressive tally of 5 podiums, 3 victories and 6 poles in 2021, the British rider finished fourth overall last season and third in 2020.
The 31-year-old's technical crew remains virtually unchanged from last season. The experienced Gilles Bigot remains as crew chief, Julien Robert is back as data engineer and Anthony Couturier returns in the role of mechanic. The only new addition is mechanic Steven Bradley.
"I'm really happy to be back for another season with this fantastic team. I feel great with my crew and I've felt at home here since day one. The target last year was to fight for the World Championship and some things didn't go our way. We gained a lot of experience and understand where we can be stronger in 2022. I need to be more consistent over the whole season because last year we started off strongly but lost some momentum before I came back strong at the end. Putting my best form together for a longer period is something I'm definitely concentrating on. My goal once again is to fight for the World Championship and when you ride for the Elf Marc VDS Racing Team that has to be something you strive for. It hasn't been an easy pre-season with some issues with my left wrist but I believe in my potential and that of the team and remain confident we can have a very successful season together. It's 2022, so let's hope it's the year of number 22!"
/// TONY ARBOLINO
The Italian rider arrives at the Elf Marc VDS Racing Team for his second season in Moto2 and his key focus is to fight alongside the top riders in the ultra-competitive class.
Arbolino's squad is led by crew chief Lucio Nicastro, with Miguel Angel Arias a close season acquisition as data engineer. Guillem Carrillo and Stephan Haseneder will be his mechanics.
"We are ready to fight on the track"
"I am very motivated and eager to start the season in Qatar. I came to this team wanting to give my all and repay the trust placed in me, so I have worked very hard during the pre-season. During the winter we have been growing our relationship together. We understand each other very well, there is good harmony both when it comes to work and when it comes to disconnecting. We have created a good group and that is very important for me! Testing has gone well and while we still need to polish a few details, we are ready to fight on the track. My main goal this season is to be very competitive in order to get podium positions and fight with the fastest in the category. Let no one doubt that I will give my all!"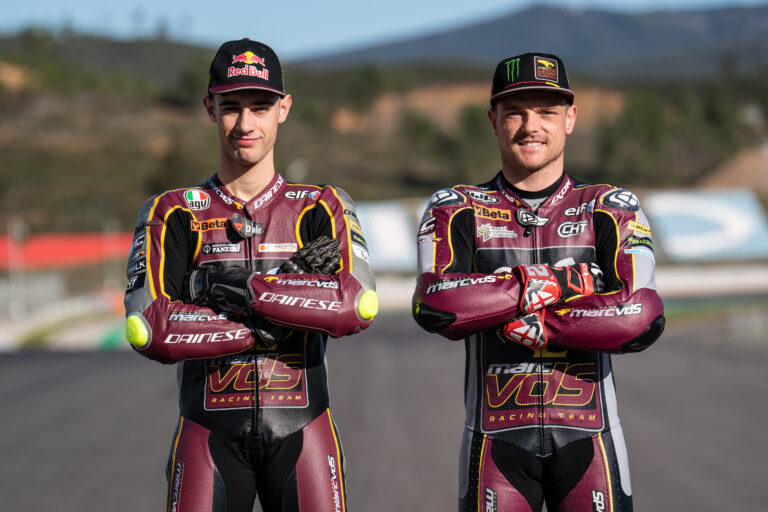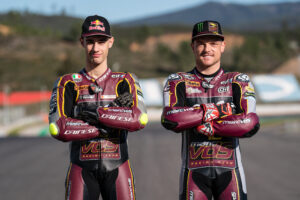 /// MARC VAN DER STRATEN, Team Owner:
"We are ready. It's going to be a great year"
"Even though this is our thirteenth season in the World Championship, I have the same enthusiasm and excitement as I did before my first one started. I am convinced that this will be a great year, full of success for the team and riders. We know the speed, talent and dedication of Sam Lowes and I have no doubt that this year, which is also his number (22), will be his year and he'll give us great moments and joy. On the other hand, we are happy to have the presence of a great rider like Tony Arbolino. He is all energy, quality and dedication, so I am convinced that we will help him to continue to grow and fight with the fastest riders.
Last but not least, I would like to emphasize how proud I and the team are to have the support of Elf, with whom we have a relationship and history that goes beyond sponsorship. The trust they place in us year after year is a source of great joy and gratitude. We continue to move forward together and one more year we will give everything on the track. We are ready. It's going to be a great year."
/// PIERRE-GAUTIER CALONI, VP TotalEnergies Compétition
"We are very happy to continue our long historical partnership"
"We are very happy to continue our long historical partnership with Marc and his team. Marc VDS Racing Team is made of passionate people and this is really important for us, knowing that ELF is a brand of passion with a great history in moto racing. The 2022 season looks really promising with two talented riders and we are delighted to be able to count on them to make the ELF brand shine."